As some of our regular Customers have been aware, we stock a Hybrid Pad for use in the S550 6 Piston Brembo Caliper with an additional 1MM of pad thickness.
These are ideally suited for applications running a thinner than stock 32MM rotor vs the OEM 34MM rotor, or other special applications which utilize this shape in a larger caliper body.
The 6 Piston S550 swap is popular on the S197 and while we have options of using 34MM rotor rings, feedback from the racers are weight savings off the front of the car and rotational mass 'wins' out over thermal capacity of the rotor. The extra combined 2MM of compound gives additional thermal capacity and wear but it also allows the caliper pistons to stay in the caliper, rather than extending out an extra 1MM on each side (obviously until the pad is at the end of service)
We stock them in R12 and R18 on our website. They have the letter "A" designation in the part number.
Link to Pads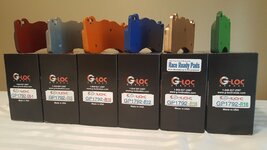 Last edited: