I love this forum cause everyone is performance minded. No one's posting pics or tips on how to slam the car or get that rusted hood look.
That being said I have to ask one style question. Mostly cause I want it to be "accurate". I hate the 5.0 emblem. I have a BLACK car. I have two choices and the second is my favorite:
1. A matte black 5.0 badge; or
2. A decal that is a modern interpretation of an old 302 badge. The 302 is matte black with a thin dark silver glossy border (same color as the brembo wheels). The rectangle is also matte black with the same border and the "POWERED BY FORD" will also be in the dark silver. Essentially, it'll be a "ghost" effect and probably only noticeable in direct sunlight. Its all or nothing--the 302 alone wont cover both holes left by the OE badge.
Here is a mock up, what do you think?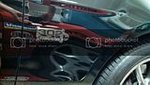 For the record, I have already done the other style mod I'm going to do--black q ball shifter. Now its on to the track goodies . . .