MY ROADCOURSE MUSTANG18 10speed
(All the FACTS and TIPS I got from 1-year build experience will be here at the top )
FACT1
: WEIGHT OF THE CAR :3789 LBS HALF TANK (with 24lbs lighter rotors and 20 lbs. wheels tires combo vs OEM)
FACT2
: ON TRACK THE CAR DOES OVERHEAT. THE ENGINE OIL FIRST, TRANS, AFTER, ENGINE AFTER
FACT3
:
Borla Atak catback gave me 13-14 whp on 91 oct!!!
FACT4
: THE FAST SHIFTING ALLOWS YOU TO REMAIN CLOSE TO THE SHELBY ON THE STRAIGHTS
FACT5
: MUSTANG LOVES CAMBER
FACT6
: FRONT COILOVERS ARE 5LBS LIGHTER
-------------------------------------------------------------------------------------------------
Hello all,
I always promised my self to create a dedicated Thread to my track build.
I have a MUSTANG pp1 10speed.
I GOT THIS CAR, In June 2018
I started from zero in terms of Mustang experience.
It has been my first Ford.
Being, Italian, I really grew up with the Myth of the American muscle cars, and after a year with a Challenger scat pack, I got this Pony.
The name is
Italian_stang
After this small introduction
I'd like to go deeper in what and when I've done to this car.
First: well…need some baseline... so after 500miles I brought this car on the Track: LAGUNA SECA.
First time there and 1: 45.xxx Stock
A Great base to start with!
But and there is always a but… The car immediately showed me the real limits of this platform:
1.most important: cooling issues.
2.brake issues.
As a diligent student, I've been researching Mustang for the previous 3 months and I Was already prepared on some common issues with the S550. however, the 18 was pretty new in many aspects
First of all, well I have the 10 speed. Second engine was a little different then before (this was and is a great PRO)
No one before me had Track heavily the 10speed on the track. I fast became a GUINEA PIG of myself and the 10speed community.
Let's proceed by step though.
After my first day at the track 've noticed that Rotors and Pads, were already heavily compromise. I did track the first time in Sport+ and the ABS TC and Stability were kicking in many times. But rotors were compromise and Ford decided to change them because 'It was really weird' (technical comment
J
)
So, first thing first I did was: better and track oriented pads. I went with GLOC R12 (front) and r8 (rear) paired with MOTUL600 fluid (now I have 660).
The other thing I've noticed was that of course the tires were too small for the mass of the car.
So, after researching with many expert guys I've decided to go with 19x11 squared set up.
Squared (and I mean same offset of the wheels) of course only because the opportunity to rotate wheels/tires without issues and fast for an even wearing. This needed 3 things.
1. Spacer minimum 25mm
2. Longer studs
3. Camber plates
This brought me to buy some stuff:
Wheels: I got the SVE r350 19x11 with +50 offset
Tires: NITTO NT01 305mm
Spacer: OPMUSTANG 25mm
Studs and Lug nuts: 1inch longer studs and Open high perf lug nuts (OPMUSTANG)
Camber Plate: VORSHLAG
Alignment: -2.8 front – 2 rear
Well the car was ready for round 2. This brought me again in Laguna where I did a 1.44 low.
I was actually expecting more but I knew Nitto NT01 aren't the fastest tires around But I was looking something predictable to learn and with a good wearing. They did their Job. They are good tires to learn your car at higher level than stock.
I did start to notice (again some overheating issue). DIFF in Laguna suffer a lot. And of course, OIL TEMP…
So, I bought Diff Cooler (FULL TILT BOOGIE) that I still didn't installed yet (I tell you later why)
And the MISHIMOTO OIL COOLER FOR 2017 car. Thanks to a friend installation went ok. There was adaptation to made like, cut one hose, and use only 2 of the 4 bolts supporting the cooler (see pic)
This initially fix the problem. BUT also started to create an additional one. the oil cooler was sitting right in front of the OEM TRANS COOLER (same of the 6r80). This, together with the AC condenser reduces the air flow (actually, probably transmit hot air) to the trans cooler and the trans temps started to reach 240f.
240 is totally normal for a manual. unfortunately, it is not for an auto. Especially a 10 speed.
10speed uses an ULTRA LOW VISCOSITY fluid. this fluid is not made for those temps (however the mustang trans temp gauge says 240 is right in the middle.
What happened was I started to have hesitation on gear shift (I DO ONLY PADDLE SHIFTING). only on track and heavy usage (like on the hills of san Francisco)
So, I moved the oil cooler to the lower grille and this seemed to help with the problem.
This happened in November 2018.
Brakes were better but still getting some hard pedal and no brake. Temps were probably too high still for the pads to handle that.
So, after installing 2piece rotors (front and back) I created the first 2018 Brake ducts PAIRED WITH GREAT BACK Plate of Sal Molinare
J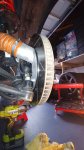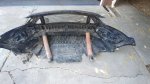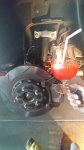 Next MODS were concentrated on. Suspension components.
I INSTALLED BMR Handling springs (250 front 980 rear), cradle lockout,
I wasn't able to installed the Rear IRS bushing (and I still didn't)
Car was ready for another alignment and more aggressive camber. we went to -3.2 front and -2.2 rear
Before the end of the year, I asked Santa. some 'aesthetic mods'
ZL1 front splitter lip
BORLA attack cat back
350R Anderson composite Wing replica (it is smaller but taller than OEM 350R)
Hood vents by Track spec Motorsport.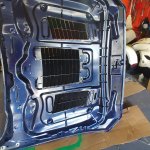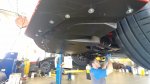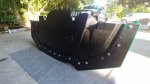 I will find soon that Those items weren't only for beauty but also functional.
I dyno my car before and after BORLA.
Borla gave me 13-14 whp on 91 oct!!!!!
With the new Year the competitive spirit in me came back.
As rugby player I was able to play anymore because back issues. I needed (and I still need the Adrenaline thrill). So, I started to look for some time trials.
I found AMERICAN MUSCLE CUP. Based in south Cal, (I live close to SAN FRANCISCO) I decided to give it a shot.
I found Bunch of great people running together at a very high level.
I decided to join them.
STREET MODIFIED and UNLIMITED were the main classes. Based, on points of modification (i.e. a tune is 2 points) and tire size (street max 295mm 100tw, modified 305mm 100tw max, unlimited up to slick all sizes) the competition accepts all American cars. I found Vettes, Camaros, mustangs and 1 viper ACR
I DECIDED TO JOIN THE STREET CLASS
I need to confess that it started as a game for me. I never tracked on those south Cal raceways.
With great surprised,
I won the 1st race
J
After passing for round 2 (Chuckwalla was far at that time) and a practice day in Buttonwillow (march 31)
I decided to join them again for round 3.
And I was able to win again! So that was where I convinced myself and my family to continue to race with MUSCLE CUP for the season.
However,
Round 3 showed me again that the transmission was suffering. A LOT.
UNTIL... Trans decided to sear all the clutches when I was coming out from Ford dealership.
I HAD TO SKIP ROUND 4 cause my car was down.
Ford walnut creek replaced my trans in 14 days. It was incredible.
AFTER THIS EVENT,
I knew that something had to be done.
I NEEDED A BETTER AND BIGGER TRANS COOLER.
I picked a 25row setrab that I place in the middle of the upper grille in front of the Ac condenser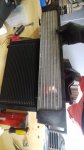 Connecting the hoses to the Metal OEM ones wasn't easy.
But eventually I did it with a great help of my friend Anthony (@GT350brakes)
I did test this new system in June in Buttonwillow with 105f .test passed!
In that occasion I was able also to upgrade 2 other things.
1. PADS. GLOC was giving issues (in the meantime I also tried R16 that glazed after 1 day) So I decided to try FERODO DS.UNO. what a Pad!!!!!
2. ROTORS. after 8 track days I wanted to change the GIRODISC. So, I got the APR Rotors with a great price. APR are slightly heavier than Girodic (24lbs vs 23.5) but it has many more fins.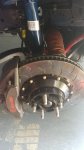 3. SWAY BAR. Thanks to the collaboration with BMR and Kelly AIKEN I got a BMR front sway bar paired with the 350R sway bar in the rear.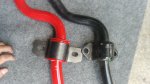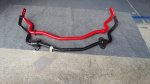 Well… this allowed me to go 1full sec faster than first time with also 100f outside!!
In the mean time NITTO were gone and I got the 305mm 3R goodyear to use for regular HPDE.
Round5 happened week after and it was a success with a great win. I was able to replicate a very similar lap time with re71 285mm tires. (however, I think is more related to some mistakes I did in the previous round) with 100f
But…
Because there is always a but…
J
My overheating issues weren't gone... and this time wasn't about the trans.
Actually, transmission was in good shape. Temps max 222f.
(I want to point out one thing: main issue with this transmission is that it has a Body valve (kind of thermostat) that opens ONLY after 190f!! so till that moment cooler is not working. Once it gets in the cooler than the system works. I'm sure if we can bypass this body valve the longevity would increase and the overheating issues will be gone right away)
It was actually the trans cooler to now creating issue. It was ...too big... so ENGINE started to suffer with head temps spiking at 245f and Engine Oil at 285f ...
This happened again at round 6 in Streets of Willow were engine and oil were high after only 2 session.
I was able to win there too but I didn't want to risk any damages with a very hot day.
I came back with mixed feelings.
I was happy for the win (all those tracks were new for me)
I was really discouraged by the overheating issues.
I was ready to switch to a different car (ZL1 1LE which is a great car by the way...)
But I couldn't give up yet...
So, I started to work around mid-September at a radical and innovative solution for my 2018.
I wanted to create a water spray system to be able to cooldown the cooler spraying them with mist Nozzles.
2 weeks of planning and study and the project took shape.
PROJECT CAME OUT WERY WELL!
But I received some critics saying that it wouldn't have work because my coolers weren't ducted.
So…
I ALSO CREATED A DUCTED SYSTEM FOR COOLERS AND RADIATOR
(BIG thanks also to Kevin, Honeybadger!)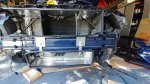 Project preliminary tests showed good results, but nothing can simulate the track temps.
In Oct 19i t was time for round 7 of Muscle Cup. In Chuckwalla.
I couldn't skip another race so I decided to join my friends there!
And what better occasion to test the cooling system with 88f outside?
RESULTS: OUTSTANDING. ducting kept the oil temp at max 260f and when spraying the temp was at 240!!!!!
I won that day by 2tenths. the distraction of those testing was… too much
But honestly this was even bigger winner.
On NOV 11 I went to Sonoma raceway. another test day. After a first session with a new PB (1.48) I focus all the attention of stressing the spray and ducting system. 5 sessions total. (never happened before!) 3 within 2 hrs. ZERO OVERHEATING.
Except for the DIFF
J
because there is always a BUT.
I guess I never really pushed for full 20 min sessions that is why I didn't have many diff issues (of course also because the 10-speed diff has a gear ratio that spin less than manual generating less heat). I will install the diff cooler for the next season. (SOLUTION I FOUND: I use a leaf blower and I pour some water in front to 'spray 'the diff cooler. This reduce the heat up to 100f
Plan as NOV 16 is to keeping the car for another year a least.
So I can now really focus resources and time to improve performance more than avoid my car to explode.
Next steps:
Coilovers.
Real Aero.
Engine mods.
Weight reduction.
On this my car weights, with lighter rotors and wheels (but bigger tires and additional cooling and ducts) :3794 lbs. (with me is 3989)
I think it is all for the moment. I hope to have next update after Dec 14. FINAL ROUNDS OF MUSCLE CUP!
Ciao,
Alessandro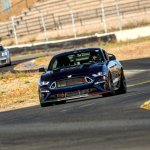 Last edited: