Hey Guys,
Heres a shot and video of the 1st dyno tuned pull from the guys @ JDM Engineering.
I also had them install Kooks SS shortys and jegs SS cat deletes about 2 weeks ago.
I can't say enough about the performance of this tune and what great guys are over there at JDM in Freehold,NJ. Major thanks to Jim Jr and Nick for their professionalism, knowledge and communication.
The throttle response is crisp and immediate and doesn't stop pulling until the 8k redline. Its so much better than the TracKey I've had installed for over a year in the following ways.
Pulls like a freight train
Much more linear throttle
More immediate throttle
Still decels as expected and no surging
Plain kicks ass !
Also with this tune I feel way more connected to the acceleration of the car which
feels
way more controllable
Thanks - Rob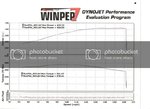 http://www.youtube.com/watch?v=NSzyH9Uv6eQ&feature=youtu.be