939
709
Exp. Type

HPDE
Exp. Level

5-10 Years
I am still on OE LCA's--car has under 30k miles, and they seem to be in good shape, but open to thoughts.
Here's what one end of mine looked like at a little over 4 years and probably about the same number of miles. The rubber appears to have mostly separated from its outer shell and has started to squish its way out. This was noticed by a Ford tech when I had the car up on a lift for an unrelated matter. I replaced them with poly/Johnny-jointed LCAs by Currie (the axle people). Not sure if they still make these Mustang parts any more, though.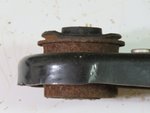 It seems like I ought to acquire a set of brackets to see how they feel. In theory, I think roll steer should make the car feel more nimble as the axle will help steer the the rear of the car.
Roll steer as a general stick-axle suspension property is unavoidable with any of the 'simple' suspension arrangements. What matters is how much of it there is, and in which direction (vehicle understeer or vehicle oversteer).
Be careful what you wish for. A comfortable amount of nimbleness at 35 mph in 2nd gear at autocross is apt to become decidedly uncomfortable at 100 mph in 4th on a big track.
I think it should also make oversteer more tractable as it decreases slip angle.
At any given lateral acceleration, OS would be less tractable. Lateral acceleration demands 'X' amounts of front and rear grip, which only comes from slip angles. Loose roll steer adds to the angle part, without adding any lateral grip. It's what makes for the nimble feeling, where the rear runs wider at the same amount of rear grip. Think of this as changing the rear to have softer "cornering stiffness" in an overall sense.
In terms of brackets, I would prefer something adjustable and bolt-on. BMR has three holes, but again, open to suggestions--I think I read stock arms don't fit in the top holes on them, but they do in the lower holes.
I think if you substitute two shorter bolts of comparable strength to the one long bolt that I think BMR has you running laterally through the OE bracket holes, with the bolt heads on the insides of the OE bracket and the nuts on the outsides of the BMR piece, that you may be able to use the top hole. Worst case, you might have to cut or grind the bolt heads down a bit to open up the space between them for additional clearance.
But this still comes back to your adjustment capability over roll steer being pretty darn coarse. The drag-race guys don't pay much (any?) attention to this part, although at least a few of them have discovered what "loose axle steer" in a highway lane-change maneuver feels like.
Norm
Last edited: