I've searched for this and I can't find any detailed pix along with detailed notes.
Right side.
The wiper fluid container is in the way. It is mounted with a nut and 2 bolts. I unfastened all three, pulled the hose through, fastened it.
Here is a pix of the hose in place with the Wiper container back in place.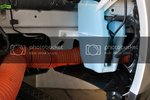 Left Side
I thought this was going to be easy but the horns posed a small issue and then there wasn't a way to get the hose through the wheel well guard.
So first I unbolt the horns. The horns are mounted to a bracket so I loosened the nuts on bracket and rotated the horns to point upwards.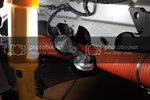 Next, I had to take a box cutter and cut approx 1" off the plastic wheel well guard so it would go back in after.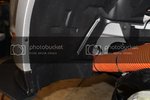 Here are some more pix of from the install.
http://photobucket.com/LSBrakeDucts