Race tires and aero on the car for the first event this weekend. Splitter is about 2.75" off the ground up front and mounted at a 0.5 downward angle. Total invested is probably around 500-600 between the mounts and the splitter and the coating. Holds my body weight easily. We will see how well it lives over some of the dips on course. I expect to remove some material until I get the new Steeda springs on the car.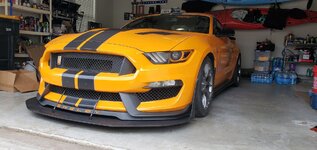 View attachment 266087
Looking at this photo makes me realize how badly.i need to treat the factory plastics after 5 years of ownership as they're all a little less rich and shiny than I'd like.