Went back to Miller for a 4 day program including a NASA Race Weekend. This program was every bit as good as Boss Track Attack. Extremely professional.
The first 2 days were similar to BTA. Day 1 was in modified 2015 GT's with Street tires. That car is very impressive, on this school we ran the West Track.
Day 2 is in their recently modified Bosses: Coil-overs, Tremec's and race tires and spec'ed for ST3. One other enhancement, all participants get radio communication with the instructors, and Hans are now required in the Bosses.
Day 2 coincided with the NASA practice day, but the track sessions were Ford Racing School only, with classroom sessions while NASA were running. For us Day 2 was on the Outer loop -- Fantastic!!
For those staying for the race weekend, there was some additional prep for Saturday, going over rules, race day format, etc.
There were two of us licensing, and we had Johnny the chief instructor to work with us all day Saturday/Sunday, plus 2 mechanics on hand with spare cars, etc. We ran Warm-up and Practice on the used tires, and got a new set of stickers for Qualifying. My car got a CEL in Qualifying so I switched cars for the race and day 2.
Day 2/3 Car: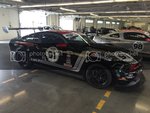 Day 3/4 Car: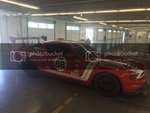 The standard of tuition and support over the Race weekend was fantastic. It can be a bit intimidating running a large group (40 cars on Saturday) ST3 up to GTSU, but Johnny and the team did a great job guiding us through the process.
The Race was a blast! The rolling start was a lot of fun -- especially with radio support -- I was in P27 and made up 5 places by T1 -- the field was 2 abreast thru T4.
Day 2 was a smaller field, about 20 cars, with 5 in our class -- got another great start from P13, but went into T1 too hot on lap 2 and span off Track. Still managed 3rd in class.....
Don't have video of the race, but here's a lap from Qualifying:
https://youtu.be/w4keNEu2wwoP0135
I'd thoroughly recommend this program. Despite the doubts over the future of MMP, NASA Utah have confirmed they will race next year, and although nothing is announced, there was definite optimism around the place.....