I thought you guys would want some up close and personal pictures, since it's impossible to find decent photos of what these oil pans actually look like. This is the aluminum model. I weighed it on my cheap bathroom scale and it came in at 9.5 lbs, but I'll give it a weigh on a proper shipping scale before I install it.
Prices have gone up, but it's still sub $500 if you hunt around. The steel version is a steal (no pun) at $300 shipped. After inspection, I don't know how I could ask for more from an oil pan (cough cough 302S pan cough). The welds are immaculate and it arrived perfectly clean (no debris/dust to get into the oil). This will definitely encourage me to change my oil more frequently, since there's no way to enjoy the way it looks once installed.
I removed the sump cover to expose the trap doors and baffles in some pictures.
The pan comes with the oil level sensor bung installed in the correct location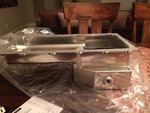 Optional oil drainback from a turbo/supercharger seen on the left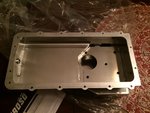 This will stay plugged for me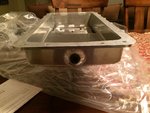 The sump cover only lets oil through on the perimeter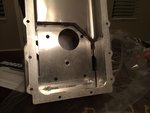 Optional fitting for oil temperature sensor on the bottom of the pan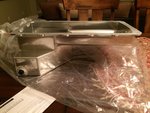 Magnetic drain plug shown on bottom left. This view shows the asymmetric shape of the pan. It flares out toward the bottom sump pickup to increase oil capacity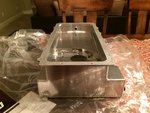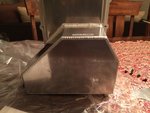 There are three separate compartments, each with trap doors to the sump pickup. Each door is clocked differently to open or close in specific scenarios (i.e. cornering loads, accelerating)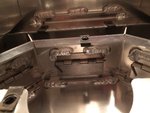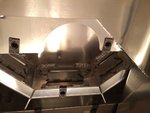 A view of the passenger side compartment