let's see how this goes...
The 05-07 mustangs have a goofy coolant flow scheme, basically the thermostat is on the cool side of the engine, where most thermostats are on the hot side. The problem with this (well one of them) is that the temperature is always "delayed" or inaccurate, if the gauge reads 230, chances are it is actually 240 or 250 where it counts. This was remedied in 07 by the rerouting of the coolant and a different coolant crossover pipe. While it would be easy tochange to this system, the issue is that there is no resource for the 07 to 10 coolant crossover, Ford global parts no longer has them I tried with salvage yards that serviced the entire north american continent with no luck and the aftermarket does not provide a source either, so, unless you happen to be right there when someone trashes an 07 to 10, you can't get the coolant crossover, it simply does not exist.
This is the solution..
Here is a pic of the coolant routing.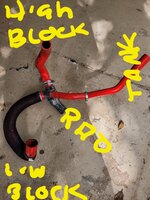 What we are going to do is restrict the water flow to the heater, and either by using an orifice, or a 160 degree thermostat, we are going to regulate the flow through this system. The orifice is brain dead simple, but may require some experimenting, the 160 stat is only available from Mishimoto (that I'm aware of).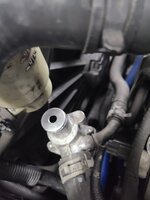 So that takes care of the big hoses, now on to the heater hoses.
You will need these parts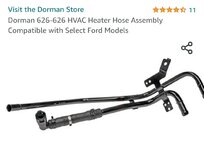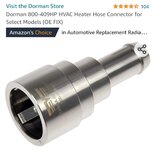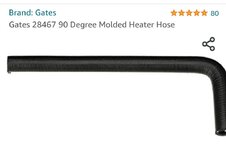 You will need to modify this part of the tubing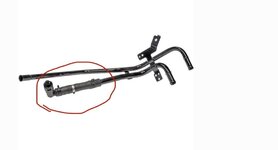 So it looks like this, the hose is a bit of a PITA to force over the fitting but it will go. Inside the fitting place a washer
( stainless) With a 1/4 inch hole. This will force the heater water to flow through the rad instead of just looping, and it will cut down on high pressures inside the heater core at high rpms..
All of this is located under the intake manifold, which is really not that hard to remove. This whole procedure should help with cooling, but you also need to interrogate the ECM and lower the fan temp to 170 degrees.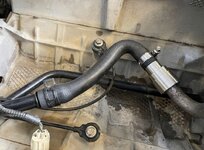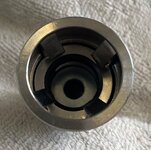 Last edited: