Stock springs...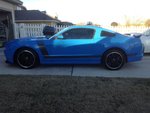 Boss T-Springs...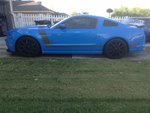 Stock Grilles...
CDC Upper Grille & Roush High Flow Lower & Hideaway Plate...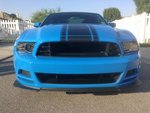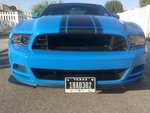 Blue Lugs...
I love the new stance with the T-Springs. After driving a new Fusion for a week and a half makes you appreciate the Boss' handling.
I love the look of the grilles, air flow is a bonus. I always wanted the CDC upper but until there was an option to replace the honeycomb lower, I was going to wait. The new Roush lower that took forever to become available to the public is a great compliment with an asterisk*.
The Roush lower is a bit pricey at $299, I paid $275. I comment about this because the upper black strip is vinyl, not actually part of the grille. Looks ok though. The description says finished in a black stipple to match OEM. My body shop called me immediately to let me know it was a medium gray and did match the other grilles or chin spoiler and asked if it was supposed to be painted.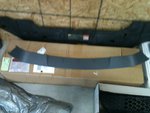 Pic is a little fuzzy but you can see the difference. I thought maybe the part is not supposed to be raw and finished since the description on Roush website says it is finished. I called Stage 3 and showed them the pic and they agreed and contacted Roush. Roush said that was standard color.
Stage 3 said they looked at online pics of Roush cars, one or two look grayish, others black.
Here is the pic from Roush, looks black to me there.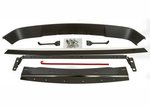 I could not wait nor had time to argue with Roush so I had the body shop paint the part black. Lastly I'm glad I did not attempt this install myself. There are over 40 pages of instructions. Some of it is the bumper removal. Took the body shop about six hours and two guys to install and line up correctly. The metal brackets did not line up properly and had to be modified. The shop said if they had to install another one it would go quicker, but the would not agree to do another
Lastly, FYI the bumper cover is permanently modified and cut to install. No going back to stock.
In the end, the result is what I wanted but it was not easy.