Going to be hitting up the new NCM Motorsports track in Bowling Green, KY in April. This is probably one of the more easily accessible tracks around, it sits literally right next to the interstate(65)
Track Details:
http://www.motorsportspark.org/facility/track-map/
Event Dates:
April 17-19th
Event Promotor:
10/10ths Motorsports
Event Details(From Website):
The gates open at 7am.
HPDE SPECTATORS ARE WELCOME 10/10ths Motorsports is very excited about returning to the National Corvette Museum Motorsports Park as well as meeting a number of new 10/10ths drivers that we know will be signing up. We are scheduled to run the full Grand Max Course which is going to be an absolute thrill to experience. This will be a 3 run group event with more than 2.5 hours of track time each day. It may have an "endurance session" of 45 minutes as well. This is the most time you will get on this track and the best bang for the buck you will get.
Event Registration:
http://www.1010thsmotorsports.com/ncm-april-2015.html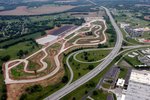 NCM Motorsports Park April 17-18-19th
NCM Motorsports Park April 17-18-19th