I have been struggling with heel-toe downshifts for far too long and need some help.
Little back story first:
I tried heel-toe in the beginning with everything stock on the car (2018 GT PP1) and was struggling. I thought my problem (other than lack of substantial practice) was that the gas pedal was too far away horizontally from the brake pedal so I then purchased the Steeda Heel Toe Gas Pedal to get the gas pedal closer to the brake pedal.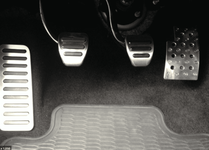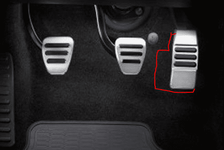 This helped at first and I was able to perform heel-toe shifts on the street and on the track.
Later on as I got more track experience and got more comfortable braking later, I seemed to develop an embarrassing habit. While braking, my foot would also graze the gas pedal so I'm essentially on the gas while braking. If I really focused on getting my foot in the right position, I could avoid the scenario but then my focus was not on the track itself and my line would suffer, making for a sloppier lap.
Most recently, I was at AutoClub Speedway (huge braking zones) and I fat-footed the brakes once again and this time it boiled my fluid causing me to go way off track, into the grass. I bleed the brakes and the fluid in the rear calipers was filled with bubbles confirming that I was on the gas while braking. After that session, I took the Steeda pedal extension off. No more issues of fat-footing the gas pedal but then I wasn't used to the newly created position of the gas pedal so I couldn't heel-toe.
Not sure what my best solution here is and hence why I'm looking for advice. I think the best option is get an Auto Blip or Xineering device but I'm also cheap and would rather put that $500 towards an oil cooler.
Ideas:
1. Open the wallet and get Auto Blip / Xineering
2. Try the Steeda pedal in a different position (maybe lower rather than closer would help? See picture below)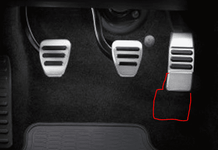 3. Don't do anything and simply get more practice.
4. Maybe my shoes are too wide? Maybe get a pair of driving shoes?
5. Certain combo of above?
I appreciate any and all insight! I'm sure at the core of it all, my foot position is off and I just need to practice it correctly.