FIA IMPROVES THE STANDARD
If you're wondering why so many racing suits, gloves, and shoes are new for 2020, it's because of the new FIA 8856-2018 homologation standard.
FABRIC BURN-THROUGH: The biggest improvement in the new FIA standard is one more second of burn-through protection in suit fabric while stretched. The result is better protection for your back, elbows, knees and hips while in the driving position. Every second is critical in an emergency on track.
HAND PROTECTION: FIA requires longer glove gauntlets. These offer better protection of your hands, wrists and forearms. It's worth mentioning that many of the gloves we carry already had a long enough gauntlet and will be unchanged in that area.
HIGHER ANKLES: FIA added higher ankle protection on racing shoes. That's why top-end shoes now have a high ankle or built-in sock design. You still have to wear Nomex socks, which are now required to be knee-length.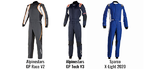 HOW DOES IT AFFECT ME?
From a style perspective, you probably won't notice a lot of difference. Same goes for comfort. The premium brands Competition Motorsport carries worked hard to meet the new FIA standard while maintaining great styling, ergonomics and breathability.
If you're buying 8856-2018 racing shoes, you'll see the difference in ankle protection right away. But the overall fit, finish and function of your favorite shoes will remain the same as ever.
The key takeaway is you'll be better protected in the event you need it.

NEW EXPIRATION DATES
The last addition to the new FIA standard is that new gear has an expiry date 10 years from the year of manufacture. This is a big step in the right direction, though for safety's sake we recommend updating your gear more frequently than that.
Most drivers don't realize their Nomex suits are a wear-and-tear item. Many manufacturers recommend replacing your fire suit after every 20 events. If you're racing six to eight times a year, you should replace your suit every two or three years to maintain its fire protection.
Dirt, sweat and sun exposure put additional wear on your suit, further reducing its effectiveness.
You ask a lot from your fire suit over its lifetime, especially if you ever need it for what it's designed for.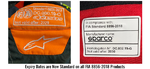 CLOSING THOUGHTS
We all accept the risks of being on a race track pursuing our motorsport dreams. It's what we love to do! At CMS, our goal is helping you minimize those risks.
Being part of the motorsports community providing safety gear to racers and track-day enthusiasts, we know there's a risk we'll see bad things happen to good people. We do everything we can to guide customers in reducing risk with proper, high quality safety equipment.
Click these links to take a look at the current FIA 8856-2018
Fire Suits,
Racing Shoes
, and
Racing Gloves
. As always, if you have questions feel free to PM us or give us a call at (844) 438-7244.
Thanks for taking the time to read this, we look forward to seeing everybody at the track sooner rather than later. In the meantime...
Last edited: