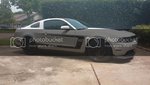 Got my Forgestar F14 wheels and Michelin PSS tires finally mounted. The wheels are 19x9.5 +39 offset with 265/35r19 and 19x11 +53 offset with 295/35r19. Oce I get better pics I'll post up later.
I didn't get to weigh the new wheels and tires. I did measure the front stock wheels, 58lbs. I figure the rear would be about 60lbs. each. According to Tire Rack, the 265 is 25 lbs. I weighed each Forgestar and the front was 24 lbs. Combined the new set saves me approx 17lbs on the front. The rear wheels weighed 26 lbs and the tires 28lbs. This is a weight savings of 12lbs on the rear.
It may be in my head but the car does feel lighter, steering a little quicker.