OBLIGATORY DISCLAIMER: DO AT YOUR OWN RISK. I CANNOT BE HELD LIABLE FOR ANY LOSS OF LIFE, INCOME, RELATIONSHIP ISSUES, RUNNY NOSES OR LOSS OF PERCEIVED VALUE OF OPINION.
Parts list:
Cole Hersee 24106 12V Grounded Continuous Duty SPST Solenoid (amazon:
https://www.amazon.com/gp/product/B001FQL43U/ref=oh_aui_search_detailpage?ie=UTF8&psc=1
)
~16" prefabricated (or make your own) 4GA red power cable with 5/16" or 3/8" ring terminals
~10' of 14-18ga hookup wire, ring terminals, inline fuse holder, grommets
1 SPST switch of your choosing
Option: 1 generic battery isolator switch (I bought this $8 one:
https://www.amazon.com/Qiorange-Bat...845&sr=1-8&keywords=battery+disconnect+switch
)
Option: rivnut tool to mount the solenoid, m6 bolts
Install:
Choose a mounting location for the solenoid. I had chosen the front of the passenger strut tower for proximity to the battery and the circuit I would be cutting off (the power feed to the smart junction box / fuse panel in engine bay). Drill holes and install riv nuts or bolts/lock washers/nuts/Loctite.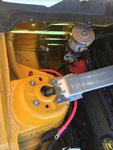 On the battery, disconnect the negative cable and the power cable that routes to the fuse box. Install that cable on one end of the solenoid you just mounted. On the other main pole of the solenoid, install the 4GA power cable from the parts list and route/secure it and connect to the battery terminal so the circuit is so:
Battery positive terminal -> solenoid -> smart junction box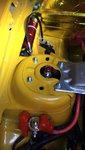 Then find a suitable location for your switch(es). My car is setup with one switch on a radio delete panel, and another on the cowl panel where the windshield wipers are. There's a good location (pictured) where the wiring won't interfere with the operation of the wipers (if used).
Interior switch on console (with flipdown safety cover)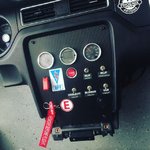 cowl switch: (note, I had to move it slightly down from this picture to properly clear the hood, TEST FIT it before drilling)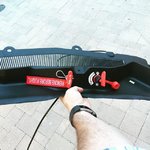 This circuit will look like this:
Battery positive terminal (use the small stud) -> 18ga wire (short) -> inline fuse holder (with 5a fuse) -> interior switch location -> exterior switch location (in series) -> solenoid
The solenoid body serves as its ground, so no need to run a separate ground wire unless you're seeing issues with your mounted location or need to mount it to something other than the chassis.
Finally, cover any exposed wiring with boots and/or tape
By cutting off the SJB while running, the car won't have power to its fuel system and ECU and this will effectively kill the motor. It's not a true battery disconnect, however, that's not what is required in the current rule sets for NASA.
Diagram: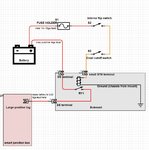 Finished Product: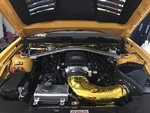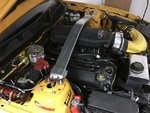 Caveats:
-Disconnecting the ECU can cause loss of learned parameters and stored diag codes
-if the fuse in the switched circuit fails, the power will fail across the board (by design, obviously)
I'll be adding pictures, having issues with previous hosting. Will edit soon.
Last edited: