7
18
Exp. Level

Under 3 Years
Hello,
I've always wanted to make a build thread and I REALLY lagged on starting this because I actually started this project in 2015. Lots of life changing events have happened since then so I just forgot to do it. I've also lost a bunch of pictures switching phones, but I'll share what I have. My initial plans were to build a drift car, but I have actually changed my mind to track the car instead.
In 2015 I purchased the car as a bare shell with a rusty nascar style rollcage already in the car. With the help of a friend that owns a local mustang performance shop, I was able to piece this car together using the spare parts he had "lying" around. I was living mostly paycheck to paycheck at this time so the progress to the car really slowed down until I got my new job. In the last few months this project really came alive because we have gotten it running, stopping and driving.
Here are a couple pictures of the car I have after getting the car to a rolling condition with a stock 88 motor and stock T-5 I bought. You can see how rusty the cage was so I decided to use POR-15 clean/prep/paint and it actually turned out really good IMO.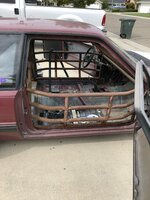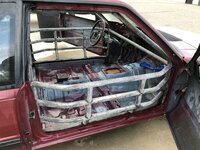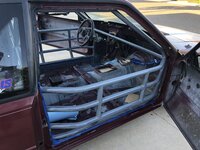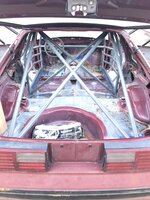 Shot of the engine bay..... had to figure out how to make the sn95 radiator work with the fox platform as well as start wiring up the electric fan to the brand new stock harness I was able to source. We also put in ford racing 24# injectors just in case I added some power down the road.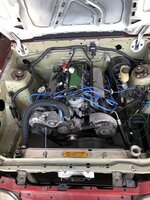 Working on the wiring and learning some things along the way. At this point I had purchased the Corbeau seat, tracks and pedestal, but had to toss the pedestal because I was too damn tall so my head was almost hitting the roof. I had to "massage" the floor and cut some areas to make room for some custom brackets that mounted the seat about a 1/2" from the floor to the bottom of the seat tracks. I also put on new rear struts so I didn't have to use the 2x4 anymore.....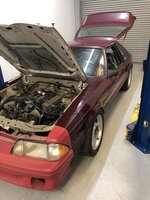 Shortly after this we finally got it running.
Started working on the brakes at home, but ultimately changed some things for the better. The hydraulic flaring tool made this stupid easy.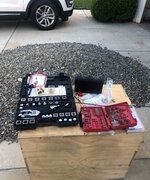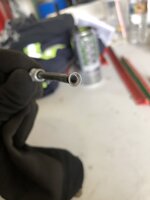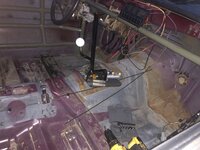 (Insert picture of finished brake lines)
Here's a quick video of the car actually driving for the first time. This was after we rebuilt the rear end with a Ford Performance pack. We didn't want to drive it that fast because the hood wasn't fully secured.
I was able to do the hood latches myself at home. Started with a dremel tool with a small cutoff wheel, but after my neighbor saw how long it was taking me he brought over some real tools. One side took me a few hours and the other side took me 45 minutes. Big difference when you have the right tools for the job.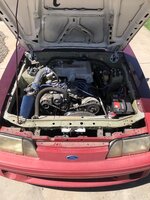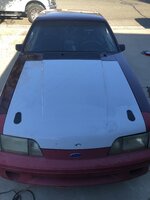 In the last couple months I have made some pretty big purchases to get the car really going.....
These 2000 Cobra R brake kits were stupid hard to find and the only company that had 1 set left was Jegs..... Everyone else was on back order with no expectation date so I got lucky. Hawk Blue pads to go with the big brake kit.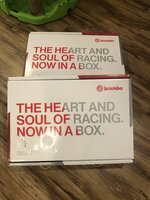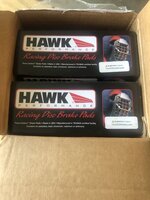 After some measuring we figured out that I would need to buy a different set of wheels because the stock ponies would not work with the big brakes.....
Finally decided on XXR 527's 17x8.25 +35 (or 6" backspacing) with Nitto NT01 255/40/17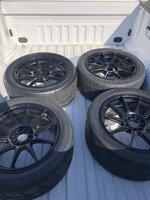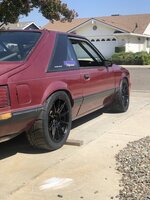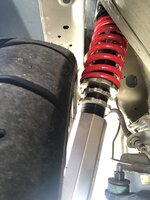 I was pretty stoked with the fitment and the way the car looked.....
I had gotten a new steering wheel with a quick disconnect for Christmas about 5 years ago and finally got around to putting it on. Figures that there was an issue with it though because the stock steering column did not work with the short hub assembly..... There were flat spots all the way through on my short hub when it should have only been halfway through.... So my buddy milled the backhalf out to fit and we made it work. Also put a cheap passenger seat in from Summit Racing.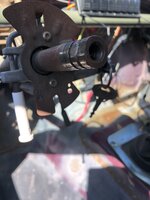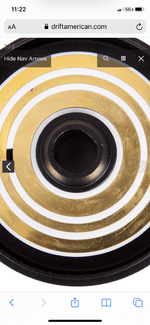 Now its a real race car haha.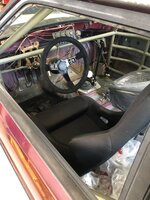 Big tach because why not.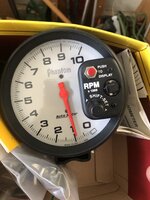 I'm super excited to be able to have you follow along. My goal is to have the car on the track before the end of the year. More to come soon......
Last edited: