Boss 302 - Racing Legend to Modern Muscle Car
Hi K98Dave:
Love the YB Tri-Coat color of your 2012 Boss 302. I tried to order the same color in October 2011, but by then, it was no longer available. You have a rare color.
Glad that you sorted out the front splitter with the prior owner, it's always nice to know your vehicle history. The 2012 Boss has nice front splitter options from Ford Racing. The World Challenge is a nice splitter and just a bit smaller than the original 2012 LS splitters.
I was able to find an original 2012 LS Owner who sold me his LS parts package with the LS Splitter assembly, the front disc brake cooling package and the trans cooler. It was a great deal, so keep an eye out on the forums, eBay and Craig's List as you can sometimes find great deals on OEM and Ford Performance parts.
Here is the LS Splitter as installed on a 2012 Boss: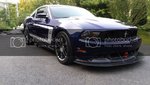 Good luck with your Boss,
302 Hi Pro