Hello all
Everyone has been so helpful in sorting out some issues with my 13 GT so I thought I'd post a problem I'm trying to help a friend sort out.
My friend bought a 2011 GT race car originally built by Phoenix. The car is set up very nicely with Penske shocks and the whole works. He ran it a dozen times this summer in HPDE but has hopes of doing an AER event this coming summer.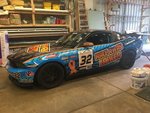 The car has the stock four piston brembos on the front and single pistons in the rear. He replaced the front calipers in the fall with remanufactured ones and runs SRF and 3" brake ducts. The first event with the new calipers was fine and three days at WGI so the certainly got a workout and performed perfect. The next even was a day at NJMP thunderbolt. The brakes would be great for part of a session then all the sudden would lose pedal. He would have to pump them back up as if there was air in the system. We tried bleeding the brake and didn't get any air but a lot of black crud from the calipers. The reservoir looked great in color. The car still has the traction control from what I understand and he turns it off everyone because the car acts up if it's on.
I feel that maybe something funny is happening with the ABS? He said the previous owner was trying to get the ABS to work properly but had trouble. While driving he's not aware that the ABS has ever kicked on so we believe it is inactive.
What are your thoughts?
Thank you!
Jake