Alrite, so I'm thinking....
Take a Boss 302S grille with the vented foglight holes...
... get some ducting and run it from the vented foglight hole on the driver's side and either hook it up to your Cold Air Intake, or connect it into the stock tube where the flex duct is...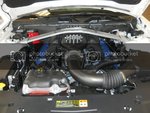 (maybe put a small panel filter on the foglight hole in this case).
Is there a reason that the CAI / intake duct has to be so long? Can it be shortened a smidge, and then run a duct from the new filter at the foglight hole and right into the end of the shortened intake tube?
Hrm...