So at the tire tests in Daytona, and along with the recent NASA deal, it was nice to see people having fun with cars. I recently sold my yellow T4 car to a guy who's daughter wants to go racing. It should be perfect for her, not much power, and easily maintainable. I really liked that car, problem was.. I'm not the guy who raced it, it was always someone else, and I'd have to complete my driver schools (again) and to be honest, it just didn't sound like as much fun as going to the track and just farting around and having fun with other people who are like minded, so the T4 went away.
In it's place will be an 06 Mustang GT.
A little background.. Stick shift Mustang Gts are getting hard to find, I've been searching for months. I finally located one at a cheesy little car lot in downtown Tampa. Somebody, at some time, loved this car. It had a nice paint job on it, which is now worn out by the sun, it had some engine mods, and X pipe, it was extremely well maintained, had an aftermarket shifter, custom interior (not my style) and everything worked. The CD/radio, windows, mirrors, heater, and the clutch seemed to have been replaced fairly recently, it had the 5 speed and not the Getrag trans, and even the A/C ran great. It apparently had a tune at some time because of the JLT intake, X pipe and no cats. I crawled all over the car with a flashlight and magnet and could find no issues with body work, rust or anything else.
the engine ran great, oil pressure was good, the guy gave me the keys and said go drive it, I ran the crap out of it and $5500 later it was on the trailer, all 186K miles of it.
and thus, it begins anew...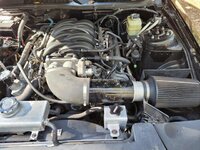 I pulled the interior out of it and sent the front seats off to an upholsterer, (the same guy that did my F150) black on black is the new orange on black. Ordered a rear seat delete, and a Watson roll bar, carpet and restored misc interior parts that had been painted riceburner orange.