120
168
Exp. Type

Time Attack
Exp. Level

10-20 Years
I've been running 325/30/20 nankang crs on the rear of the 500 since last summer - using et43 offset and 11.5" wheels. Had both stock and bmr rear bars , and the rear brake line was either bolted to its normal sway bar bracket, or zip tied to the swaybar if I was making changes.
After switching to steeda's skinny comp. rear bar a few weeks ago, and running sessions over 2-3 days, I saw this on my tire. At first I thought it was upper shock mount rubbing.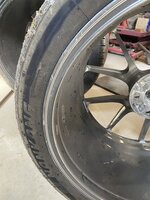 Pulled the wheel and saw it was the brake line rubbing, even though it had clearance. Had already gone through the outer steel braid - yikes!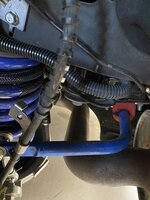 Will zip tie the replacement line back to the hard line now.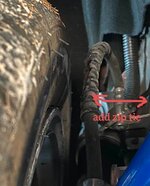 Must have been position change, plus g-force and tire flex, caused the interference. The big tire is a tight fit in the back, but this is the first real rub I've seen.