Zaino, I put that $hit on everything
Hey guys,
As you can see in this pic of the interior of a 2012 Boss, you can only see a single audio line in jack inside of the center console storage compartment, behind the cup holders.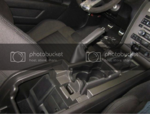 In my wife's '11 GT Premium, from left to right there is an audio input jack, USB input jack, and 12v power point.
Is this the same setup that is inside the new 2013 Boss? I really need to know this as I'm currently planning all of the work the shop installing my stereo upgrade will perform. I will detail my plans for the audio system upgrade in another thread. All I'll say for now is I'm keeping the stock head unit, and am replacing the lame stock speakers and adding amplifiers and sub in the rear spare tire well. The plan is to locate a pair of V6 Premium/GT Premium '10-12 OEM door panels to replace the stock Boss panels, as I'm not going to cut up the originals because they lack the 8" woofer assembly. If anyone knows a good source for these, has a contact to obtain these panels, please let me now. This is a deal breaker, I must have a pair of used OEM panels!
While it's in the shop, I'm going to have the installer run the required wiring to power the Go Pro HD camera(s) in the Boss. The camera can get power source from USB 5pt male jack, so if I want to run 1 or more cables to provide power in multiple locations, behind rear view mirror, passenger corner of the windshield, and under hood for a grille mount for unobstructed front end shots. So it will be good to know if I've already got a powered USB port in the console that can have hidden cabling installed from it, or if I will have to use an adapter for the center dash outlet. I'd rather not have to clutter up the interior with extra cable all over the place, so one way or another I want to have multiple power sources for one or more Go Pro HD cameras. The motivation here is to be able to load up 32g SD cards in the cameras, and only have to worry about turning them on, then setting the desired mode. Won't have to worry about dead batteries, swapping spares, etc.
If you could snap a pic of what the console looks like if it's different than described above (wife's GT), that would be great.
Thanks.