Looks like Revell has a 2013 Boss 302 kit in their 2014 catalogue. I happened up on this at my local hobby shop last night. Here is the catalogue...its on the cover and page 18.
http://downloads.hobbico.com/catalogs/2014-revell-catalog.pdf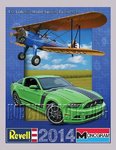 Hopefully it doesn't come molded in GB so its easier to paint other colors.