I just put in two track days with my new square setup and the car felt better balanced than with the stock staggered setup. Very neutral front/rear balance and stable during high speed transitions. I did not make any changes to the suspension. Here's my setup and let me know if you have any questions:
@Need4SpeedMotors
@bpracer
@modernbeat
@CSL
@ChopSui
@JAJ
@scmscout
4-N4SW Project 6G 19x11 +50 rear wheels
4-Michelin Pilot Sport Cup 2's in 305/30/19
2-25mm front spacer
10-ARP 14mm x 1.5 front wheel studs with stock wheel studs in the rear, part number 100-7733
20-Dorman 611-257 open lug nuts (you'll need a thin walled socket)
Each wheel/tire is 52 lbs while the stock wheel/tire is 62 rear and 61.5 front. That's a 10 lbs saving per corner in the back and 8 up front with the spacers. Not as light as the CF R wheels but not as expensive either.
Front wheel with spacer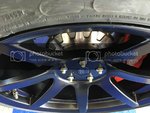 Rear wheel with Dorman lug nuts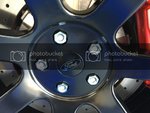 Spacers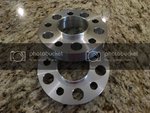 Torture tested