#LS-378 - So many Porsche's, so little time....
Moderator
Install was a piece of cake, all parts lined up perfectly. I used 3M adhesive remover to clean up the OEM rocker panels before installing. Not too many tips I can give but here goes:
I found that this angled needle nose plier was perfect for taking out the original fasteners. The angled end made it easy to get behind the head of the fastener. From there it's just grab and pull.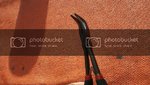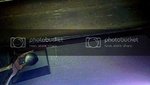 I taped down the adhesive plastic protective tape with scotch tape so it was easy to just grab and pull when you're ready to. Make sure
NOT
to make too tight of a fit with the 8 initial fasteners before you take off the red protective tape, it may tear. I had one tear but was able to easily get it off using an Exacto knife blade to start to peel the remaing piece.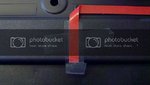 Drilling the 5 additional holes is simple. Don't let Roush's recommendation of marking the bit at a 1" depth fool you, you just need to get though 1/8" of plastic (the original rocker panel). Thanks to Rick 5 DOT 0 for clarification on this one. I started at the front and and made sure that was lined up. In my install there was not much wiggle room for alignment but none was really needed.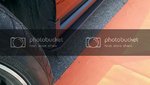 All Done - maybe an hour in total.