Clearing out few remaining S197 track/performance parts I had accumulated. Please PM me with any questions.
Note: Shipping included within USA only.
1. Custom adjustable panhard bar from Rod End Supply w/ Ingalls Engineering relocation bracket -
$150
shipped
Used/good condition. Great upgrade from OEM lanyard bar. Custom made, swaged chrome moly, gold anodized, spherical rod ends. Relo bracket repositions left side of bar mount to parallel rear axle for consistent arc of movement.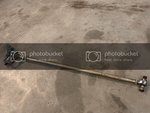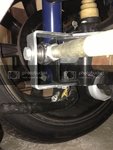 2. Ford Performance Parts B302S rear LCAs -
$120
shipped
Used, excellent, same LCAs as used on the Boss 302S. 3. Steeda spherical UCA differential bearing -
$35
shipped
Used, good. Eliminates rear UCA diff bushing deflection.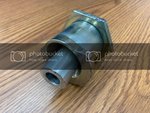 4. Improved Racing inline high flow 185 deg t-stat block w/ -10 AN Raceflux fittings, NIB/unused -
SOLD!! Last edited: