hopefully this is the right forum for this. i have a 2007 Shelby gt(glorified gt i know) ive had for years and recently got into scca. im currently in the process of giving it a fairly substantial overhaul. im currently working my way through the aero on it...finishing up a 6 inch(from body perimeter) splitter for it and want to focus on the back next. CAM-C allows for a spoiler to be added that doesnt exceed 10 inches in any direction from the body. ive found a few good examples including terry fair of vorslags 2011 GT that have made use of large spoilers and was hoping to get some input on making my own and how effective they are. currently my plans to use 1/8 inch (may need thicker)6061 aluminum and reinforcing it as needed. my biggest question really pertains to the angle of the spoiler. terry's was set at i believe 65 Degrees which seems extremely vertical. i know in scca events speeds rarely exceed 75 so im wanting to maximize my down force for that speed and below, i figure with the use of vortex generators i can pull the airflow farther down the back window. its my understanding(which may likely be wrong) that spoilers produce the majority of their down force on the outside, i figure if i can pull the airflow further down i can make use of more of the center area of the spoiler. im very much new to the airflow game.
quick details my car shares a lot of similarities to terry's 2011 gt early in its life, its currently running 430rwhp N/A. the rear has been widened to accept 345/30r19's. fronts still have 275s but will be widened too in the future.
any help would be greatly appreciated.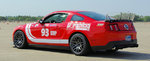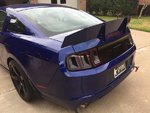 above is a good example of what im wanting to build. the fabrication shouldn't be an issue. but the angles seem steep.