Pre-Order
HERE
***We are going to have PFC build some 2 Piece Brake Rotors for the S550 Mustang Rear***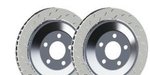 ***These Will Eliminate The Reverse Cooling Fin Design***
***Rotor Weight: 11.3 Pounds Vs. 17.3 Pounds for OEM Rotor***
*** You Are Pre-Buying a Pair of Rear Rotors***
***Expected Delivery Time is 8 Weeks from time of 10 Pre-Orders***
These will utilize PFC's Patented V3 ZeroFailures Floating Rotor System.
PFC utilizes the same race proven metallurgy and design from their Indy Car Motorsports Program. These 330MM Directional 48 Vane Slotted Rotors are built under strict requirements in PFC's own US Facility .
The patented V3 attachment uses a retention ring that holds the hat and disc together. The ring means no need for torque wrenches, no hardware and no hassle. The ability to change a disc quickly and efficiently saves time and effort. As well as being convenient, the new V3 technology is much lighter than previous designs, making it easier to put on and pull off. This V3 rotor retention method is based on the use of a two-turn retaining ring, which is held in a groove in the hat that overlaps the rotor flanges—effectively locking the rotor to the hat.
Every PFC Zero Failure™ rotor is manufactured in the US with the same process and testing conditions as our championship-winning race rotors.
PFC's rotor mounting designs minimize thermal deformation, reducing drag and eliminating thermal judder.
Custom developed highly-alloyed friction materials deliver superior performance at high temperatures