Ohio-based racing outfit was impressed with the results from the upcoming SR-Series sintered pad range​
For the past 12 months, EBC Brakes Racing has worked closely with the Alliance Autosport racing outfit based in Columbus, Ohio (USA), to validate the upcoming SR-Series sintered race pad range in some of the most brutal Sports Car Club of America [SCCA] club racing around.
Scott Rettich, driver and owner of Alliance Autosport has a diverse background in racing, ranging from karting, spec racer Fords Formula Enterprise, GT classes and more. With loads of championships and lap records to his name, he decided to start a race outfit that goes as far as renting out and setting up vehicles for customers to compete right alongside of him.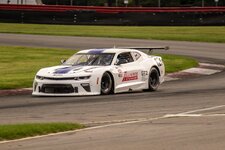 While overall happy with the brake pads he had been running in the past, he decided he would give the SR range a shot to see what it had to offer. Scott decided to try out the SR-21 pads on their 500HP SCCA GT2 car at Mid-Ohio Sports Car Course in Lexington, Ohio since the high torque offering is a perfect fit for unassisted vehicles. A simple shakedown with their baseline pads and a pad swap later, he was doing full-pace laps with no bedding in required!
Immediately, he noted the lower pedal effort required to slow the Camaro down, reporting that it took around 40% less input to get the same amount of deceleration as the competitor pad. This was a huge plus for Scott as 30-minute races can become quite taxing when you have to stand on the pedal every corner. No fade was detected and it was described as better than what he had run in the past with pedal feel being very communicative.
Scott went on to run the very same set of pads for multiple race weekends, with wins at various race tracks, even outpacing the GT1 cars. After removing the pads for inspection at seasons end, they had plenty of laps left in them with no signs of letting up. Although not even close to being a concern here, another benefit of SR pads is that there isn't any glue or nasty adhesives that will start interfering with braking power towards the end of the pad's life due to the unique pad bonding process of SR.
After these very positive results, EBC Brakes Racing has become the SCCA GT2 brake pad supplier for Alliance Autosport and we look forward to helping them rack up even more wins and championships.
To find out more about EBC Brakes Racing's all new SR-Series sintered race pad range, please click here.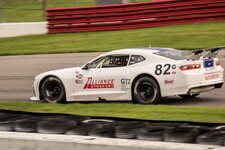 Connect with Alliance Autosport on Instagram Here | Facebook here