I had a gift card for Amazon and nothing to buy so I ordered this antenna, it looks like it is the smallest one available for the Boss. Personally, I never listen to over the air radio and in this car rarely even listen to CDs, but I could not find a complete delete for the antenna. Anyone seen anything smaller? I'll report back with reception results in a week when it shows up but if it mates up well and is as short as it looks I don't care about reception.
http://www.amazon.com/Stubby-Antenna-Ford-Mustang-2011-2013/dp/B00846GBYQ/ref=sr_1_5?ie=UTF8&qid=1350433373&sr=8-5&keywords=mustang+antenna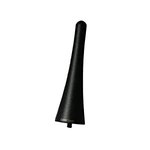 The other thought I had was mounting a GPS antenna there, the smallest wart type not the shark fin, but I don't think I am going to install a GPS radio so that would be pointless for me.