The perfect economical track wheel?
http://www.latemodelrestoration.com/item/SVE-1007FD/2005-13-Mustang-Flat-Black-SVE-Drift-18X10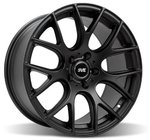 [youtube]http://www.youtube.com/watch?v=I5m9YhXKd34[/youtube]
18X10 +43 (ideal offset)
So they look good, are the right size and offset and are cheap as dirt ($150/ea).
Can anybody convince me why these aren't the perfect economical track wheel?
Does anybody know the exact weight on these?
I know of people using these on the track and I haven't heard any complaints. Anybody have any first hand experience with these they'd like to share?
I say track wheel because that's what I'm looking for, not because these aren't road worthy - quite the opposite. That said, they don't appear to come in a 19X10.
I've made the mistake before of taking my high $$$ unobtanium ultralight wheels (for autox competition...) to track days before only to come away with bent wheels, which I'd prefer not to repeat. The idea of a readily replaceable $150 track wheel is alluring to me.
Thanks!