Lord knows I'm a Voodoo Child
Moderator
3,874
1,526
Exp. Type

W2W Racing
Exp. Level

10-20 Years
Guys
Just trial fit my new Team Dynamics 18"x 10" wheels from Blowfish Racing.
Steve is great to deal with and had sent me a barrel template last fall to check fit with my 15" GT500 spec Brembo brake setup. Template worked so I finally ordered the wheels about a week and a half ago. They were delivered by Fed Ex on Thursday after a few weather delays here in the North East.
So this morning I shoveled the snow and ice in front of my garage and tried them on for size.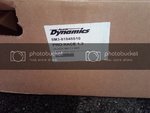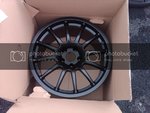 They are well packaged and looked great out of the box in matte black.
Here is the challenge;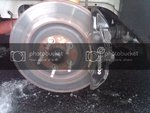 Gotta get around that tall 6 piston caliper, no other18" wheel I have tried has cleared the point at the top and bottom of the caliper.
But this wheel does with almost 1/4" to spare;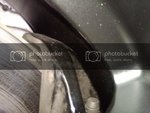 I was jazzed about it, but there are a few niggles;
1) The center bore is a little tight, no big deal and I will take a little emery paper to it to shave a .001" and then put a light coat of anti-seize.
2) Lug bore holes are small, have to use a thin wall 13/16" socket to tighten lugs, also glad I run extended studs, starting nuts on stock length studs will be a PITA.
3) Clearance to strut and sway link bolt; will have to trim sway link bolt, and there is about 1/4" clearance to the strut body. I am running 275 Continental slicks on the front so I don't know how much bulge there will be on a 10" wheel, but I will get some 1/4" spacers and try with and without them hopefully no rub. Should ask Steve if a 9.5" wheel can be ordered.
All in all I am happy with the purchase, wheels seem pretty light, haven't weighed one yet but I think they are about 23 lbs. Finish is very nice.
Steve