I don't have the time and skill to perform QA for free, especially when it's a $2300 product.
I kinda feel like a shitty person for knocking Mantec on that one, because it feels like I'm doing it for Ford.
After 2 stock clutches, I moved to an exedy mach with their lightened flywheel.
My flywheel is lighter than your flywheel.
Want proof?
Alrighty, here's mine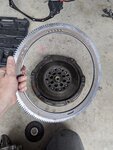 So yeah, I think I know why the Flywheel is on a D99 backorder until the end of November. Why's that you ask?
Because it's a piece of shiznit, that's why.
So I'm guessing that noise we heard in that video was the flywheel freely bouncing around in the bellhousing. That'd also explain why I was still able to shift, because the flywheel was still spinning, and the clutch was still making contact, and the pressure plate was still doing its job.
So that would explain why I was not able to start the car once again. But, just for fun, more starter problems, LOL.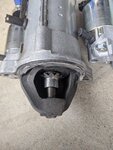 When it rains, it pours. Good news is that I don't need a new engine or transmission, so I was kinda right on my guess before. I'm not going to go all QAnon up in this, because I've got like, eight functioning braincells, but perhaps there is a conspiracy or big coverup with the 2018 Mustang. Remember a while ago when I said that the 2018 Mustang starter was on backorder? Remember when I said the flywheel was on national backorder?
GET OUT OF MY HEAD, MAJOR LEAGUE BASEBALL!
Last edited: