So with my tracking down of the inability to start with no codes thrown, I had pretty much replaced all of the fuel system components, so I'm definitely to blame for this in some fashion. I checked it before I loaded it up the night before, checked it all down after unloading it the morning of. I'll have to do an even better job putting stuff back together this time around, always something to take from a failure.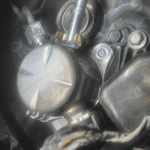 Lost the top nut holding it down, and looks like a nice lil 1/8" ish opening on the top. the rear fuel hardline that feeds it was also loose.
the fire from that likely caused the line feeding the rail to melt, and being oriented downward meant it was pouring straight onto the exhaust header.
right as I was finishing putting it out, I heard the vacuum actuator blow right around the same time as the heater hose burst off, and fired right at me and gave me a pretty sweet burn. much happier it was just hot water instead of fuel.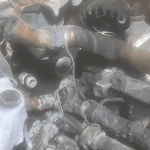 I'll get it up on my blocks tonight and take a better look at the situation, but all things considered, I escaped without bodily harm which was most important. I'm fortunate that many of the things damaged were on my to-do list anyhow. I'll be moving up to ST/TT1 next year, and now with much more room to operate, I can bypass/remove the evap core, kill that line, and cap it in the front. I was also considering changing out the Intake, so I'll be going with a Cobra Jet or perhaps porting the 2018 to get a little more upper rpm action.