Pulled the motor out, and looks like I was fortunate to escape with just some minor cuts and scratches. Other than the harness, the engine looks alright.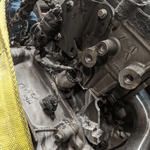 Transmission looks alright too, just burned those little nipple things along the top, which I'm going to assume are some sort of pressure vents?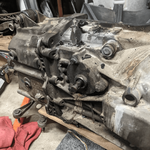 Downside is that the harness that goes to the transmission is part of the greater harness loops, and not one of the simpler ones that plug into the PCM, so that kinda sucks. Not sure if I'm going to just order that harness to then cut/splice the busted parts in to save all the wiring mess, or thinking even bigger, rip all that shiznit out and do something like an AEM Infinity since I have all these wires of which I use so few of them... no windows, no airbags, no radio, no pretty much everything. I'm probably going to lose out on ABS which to be honest wasn't really working in the first place with the busted sensors, so why not? Issue looks to be that the Gen3 isn't fully yet understood, so I'd have to somewhat downgrade to some Gen2 mix to use something like that... which stinks. Dunno, will make some calls tomorrow and see what that comes up with.