Originally posted on my blog here:
http://www.jimmypribble.com/blog/2013/04/boss-ch-12-20000-miles/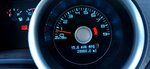 The Boss continues to thrill me every day. On most days, I don't ask much. I have a short commute to work and twice a week we have to take Finley to daycare. Once I figured-out the moves, the ingress and egress of the baby seat isn't even a big deal anymore. And baby Finley seems to enjoy the Boss. The rumble of the quad exhaust soothes her and she sings along with the gear whine. Outside of the daily commute, I am hard on the Boss. Since she is parked in the elements day and night, I rarely bathe her. On long road trips, I use cheap gas. At the track, I drive her like I stole her, even with her CEL blinking in my face. On the weekend that she turned 20,000 miles, I drove her through a ghost town on rocky desert roads just inside the border of Mexico.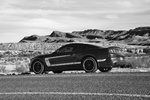 The Boss at exactly 20,000 miles in one of her best elements - a road trip. In this case, she is perched on the border between Texas and Mexico. Chihuahuan mountains are in the background.
It's like nobody told her that she is just a track day special and that she really shouldn't be doing the things she does. This is a girl with serious self-esteem and the capabilities to back it all up. But we already know what she does well. Let's check the report card for bad marks:
• The Boss still gets a check engine light (CEL) every time we go to the track. Worse than just a CEL, the car goes into limp mode at the track for no apparent reason. Well, no good reason. After a lot of analysis, I am convinced that the CEL/limp-mode is caused by vibrations from hard track driving. After the very bumpy surface of Harris Hill Road was repaved, my CEL/limp-mode events dropped substantially. My best guess is that the CEL is triggered by a sensor or wiring harness that is sensitive to vibrations. The Boss is due for a service, so I will try to recreate the CEL, before I take the car to the dealer and see if I can get this resolved.
• Gas mileage is up two-tenths (from 15.6 mpg at 10,000 miles) to a still dismal 15.8 mpg in mixed driving.
• The gearbox has developed a loud whine, especially in 2nd gear. This will be checked at the next service. At the track, I continue to go into 5th gear, when I mean to downshift into 3rd gear. I think the shifter bushings are just too soft and there is too much movement of the drivetrain. As soon as I make sure there are not any warranty fixes that apply to my transmission, I plan to install a Ford Racing shifter and aftermarket motor mounts to help with the shifting problems.
• I don't know what this is, but it's weeping.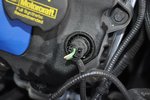 • The parking brake cables are routed through the lower control arms and this is causing a wear point (which they obviously know about, since there is a protective sleeve).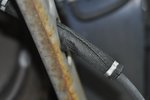 Despite these issues, the Boss continues to perform beautifully. The Boss 302 Mustang is the best car I have ever bought and a little age has done nothing to change that. She is just getting warmed-up. Her second birthday is on May 31st and I plan to celebrate with some modifications that will make her even better.
Current Modifications:
• Hankook Ventus V12 evo (stock sizes), $883.28 – At 16,865 miles a screw forced my hand and I had to replace my tires. I am much happier with the Hankooks, which I judge to be better than the Pirellis and which are much, much less expensive.
• Pagid racing brake pads (RS-29, front and RS-56, rear), $457.00 – I proved my point by using the stock Ferodo brake pads for close to 20,000 miles and at least three track days, but I was starting to hear some noise and feel less performance from my brakes. Based upon their reputation as good track performers with low street noise, I went with the Pagids. They are still new, but I have one track day and one long road trip on them already. So far, I'm very happy with this setup.
• 302S-style oil breather – Details of this DIY setup can be found in Boss Ch.11.
On The Bed:
• Carbon fiber trunk lid and 302R wing – This has been pending for far too long. I am making some adapters to make everything fit nicely and then I need to have it all painted.
• Suspension – It's time. Ford Racing P-springs and A-dampers are on the way, though I might stick with the stock Tokico dampers. I am waiting to hear back from a Ford Racing suspension engineer. Other kit to make it all work will likely come from Kenny Brown.
• Shifter – Ford Racing (Barton) shifter and billet motor mounts will be installed to solve shifting issues that I experience on track.
How is YOUR Boss holding-up at 20,000 miles?
J I M M Y