Hey guys,
first of all, happy new year
I thought we could start to share info on tires, in only one location. There are tons of spread advice around the web and this forum. Let's put our knowledge here!
I'll start sharing my experience with 7 different compounds in the last 18months.
now, I'm not an expert road racer. (I just did my first year at the American Muscle Cup time trials).
but maybe this can help to navigate many rookies like me for the best tire choice.
My experience is on HPDE and time trials only (no w2w ...yet
)
As mentioned,
I tried 7 different tires. Some more consistent, some just recently tried so my evaluation is still partial.
ONE THING FOR SURE. Mustang 2018 LOVES TIRES AT 34PSI AS PERFECT PRESSURE
list
MICHELIN 4S (OEM MUSTANG PP1 255F 275 R)
NITTO NT01 (305 SQUARED)
RE71 (285 SQUARED)
3R GOODYEAR (305 SQUARED)
CUP2 (305 SQUARED)
YOKO A052 (295 SQUARED ON 18')
KUHMO ACR (295/25)
IMPRESSION
1. 4S.
a. 500miles on the car and 'Laguna Seca happened. I ran stock 1.44 and those tires, gave a good feedback and performance actually. They wear well and probably top street tire for daily use. (with some sporadic track day). A great tire to start tracking the car.

2. NITTO NT01
a. highly suggested my many people, I think is a great tire to start to learn how to drive on the track. Very predictable and limit never comes in one shot but it is gradual. So, it allows you some mistakes. Great wearing especially if tires are rotated all around often (I sold mine with 8 track days and at least 4 to go). For sure not the fastest. Awful street tire. Awful rain tire. and the heavier ( up to 5 lbs heavier )

3. RE71.
a. My Muscle cup tire (size limited by class) .one of the 'princesses' for time trials. I usually used them with 1 hot lap 1 cool off lap format (also because my overheating problems lol). DEFINETELY ONE OF THE FASTEST. 285 is small for a 4000lbs car. wearing was ok. Although with stiffer sway bar I started to see some bigger wearing (maybe due to the drag that the sway bar induced.). I would say, 4-6 track days is the normal life of those tires. I HAVE NO EXPERIENCE WITH them on 20mins session with hard pace. However, it happened many times to do my best lap at lap 5 or 6. One of the top choices here.
4. 3R GODYEAR
a. I think those are my favorite. and probably top3 fastest (if not the fastest…). great feedback. They are very precise especially in corner entry. also, because the largest thread width.5/32 depth for the thread. Don't expect more than 3-4 track days with rotation
5. CUP2..tried only one session…I don't know I think they are over all slightly slower than 3R. better and precise on braking zone. Worse in max G turning. In Sonoma they were pacing slightly slower than session before with 3R (around 70f outside). I'll test them again.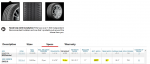 6. YOKO A052. 3 SESSION IN BUTTONWILLOW one with rain. The third one was pacing 1 sec faster than my PB with 3R (although 3R PB was with 90f ish while it was colder this time). I ruined the lap finishing out. So far great wearing! And fast tire. I have the 35 so maybe little softer than the 295/30. I will use them for my JAN/FEB testing. Results seems encouraging between the lap time and the wearing.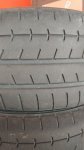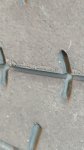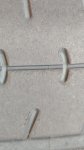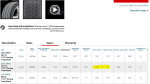 7. KUHMO. Side wall…25..small very small. But I was expecting a lighter tire (27lbs..probably cause the carcass is very reinforced. The don't like camber. So, I did change it before installing them knowing the toe will be off. Like 2 laps only thing. So, I put them only one session on the fourth one in Buttonwillow. I did. 1.2 sec faster than 3R (but 3R with 90f). I Did my best at the first lap and second lap; TIMING was way slower DUE TO HIG PRESSURES reached in the front where I change the camber. (rear was perfect at 34psi rear went to 38psi)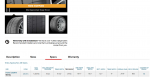 I'll update it once I have more info but PLEASE SHARE YOUR INPUTS TOO, INCLUDING DOT TIRES AND SLICKS. with time comparison if you have it too.
Happy new year,
Alessandro