This is a new thread we created to cover about what is going on at the Vorshlag shop, day to day. We plan to post here often - mostly from copying what I post on my own or the Vorshlag social media, blog, YouTube, or Instagram. It won't always be Mustang centric, but enough of it will to hopefully keep TMO people entertained and informed.
Social Media is not everyone's cup of whiskey, and due to distorted algorithms and AI you might not see these daily posts. Putting this stuff on the forums makes it more of a permanent record, and easier to catch up with what's going on at the Vorshlag shop.
So let's start with yesterday...
October 27, 2020:
We had a customer who had an issue with one of our Bilstein based "Track Pro" coilover kits, which we used to make from OEM style inverted Bilstein strut housings (it was a lot of work).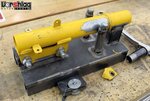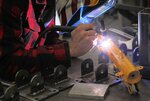 He bought this kit from us nearly
5 years ago
and broke one of the swaybar brackets off (I suspect by using the wrong length end link). He asked if we could repair them and check his other parts, like the camber plates.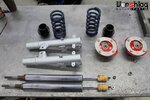 Over the last few days we unearthed the old production fixtures, CNC plasma cut a replacement bracket, and got to work. Brad disassembled and prepped the housings, then Myles TIG welded the new bracket on and welded up a crack in the other side. Brad repainted the housings (we no longer keep the custom matched Bilstein yellow on hand) and I assembled them today, for Tim to package up and ship out.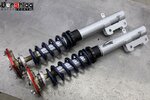 Why support a product we quit selling 2+ years ago? Because that's what you do.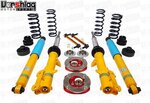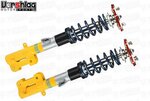 Why did we make this kit to begin with? Because nobody filled the gap with a quality coilover under the MCS price point (no Ohlins R&T nor Bilstein PSS10) for the S197 Mustang (which was made in huge numbers). We only quit making these because Bilstein had a stretch of over 18 months *without making shocks*.
We keep seeing this lately: a shock supplier not making shocks, a wheel supplier not wanting to make wheels, and a brake supplier not wanting to make brakes. It is a bit maddening - and has nothing to do with the pandemic. If they keep this up, someone else is going to fill the gap in the market for them. That's how this works.
----
PRO TIP:
Never buy an automotive front spindle from a salvage yard. (*unless it is a well managed yard that never sells obviously crashed parts)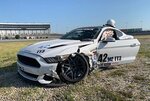 I've learned and re-learned this lesson a few times. This is one area that can and does often get tweaked in a crash, which is how most cars end up in junkyards. The spindle can get bent, or a mounting hole oblonged, and then you have a paperweight.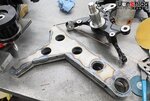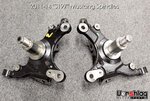 These S197 and S550 spindles weren't that expensive from the dealership new, in the end. Solved a lot of problems. #TheMoreYouKnow
----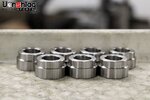 Some exciting new materials being tested for use in our camber plates. This grade of stainless steel has both the machinability and corrosion resistance we need for some tight tolerance bushings we use hundreds of every month.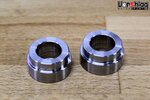 Moving to this material for this part will raise costs but cut out a delay in the manufacturing process - electroplating. We are making a batch this week which we will corrosion test side-by-side with our plated carbon steel versions.
#NewMaterials
#VorshlagBuilt
----
A simple outdoor corrosion test I put together today.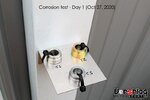 The same part (two of them are blems) made in bare carbon steel, yellow zinc plated carbon steel, and a grade of stainless steel (I am not sharing the exact alloy, for business reasons). We may move all of our bushings to this stainless, depending on how this looks after some rain and time. Come on mother nature, give us your worst!
#BuildTestImprove
----
This was one day of postings on social media. I will go back a few days in the next installment to show some actual car work we are doing in the shop, some new parts development, and more.
That's Whats Up!
Last edited: