Picked up 305/30/19 for a 10.5" factory gt350 wheel and a 325/30/19 for a 11" factory gt350 wheel. However, I'm starting to have doubts on the 325/30/19 on a 11" width wheel. The 325s would go in the rear.
Tire: Pilot Sport 4S
My question is being driven by safety over performance. I understand from my reading that handling has slightly dropped and may even produce more understeer. It at least has to be better than Nitto 555G2 which were reserved for as my wets which this is replacing those tires. Saving my 305/325 Pilot Cup 2s that I do know work on an 11/11.5 just fine.
Any thoughts on 325/30/19 on an 11" which is the lowest Michelin states it can fit. The question is will it clear the GT350 in all components.
From what I can tell, it appears to clear everything fine and actually better than my cup 2 set of wheels.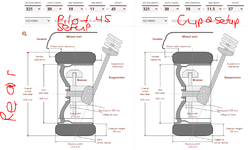 Last edited: