Because racecar.
Moderator
Guys:
This was the first weekend I've been able to use my AiM system while racing competitively out here in AZ. Here is a data trace of my fastest lap of the weekend showing a number of channels being monitored via CANBUS and Oil sensors.
I am running the stock BOSS302 oil pan, with the FRPP oil-to-air cooler in-series with the factory oil-to-water cooler, 302S grille, Tiger hood, 2013 SVT fan assembly, and no AC condenser. 10 quarts of 5w50 Castrol Syntec. Ambient temperature in the low 70* range; altitude 1200ft or so above sea level.
This is on a relatively high-speed track with average speeds around 80mph and max speed above 140mph. Here is the map of the track itself, we run CCW as indicated by the arrow on the straight. Total length around 1.6 miles: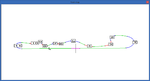 And here is the data trace combined with the corner numbers (click to enlarge):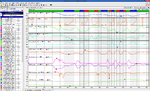 P_Pedal is the throttle position and a_Master_Cyl_Press is the brake pressure at the master cylinder.
I know this is a bit of information overload but
my key takeaway was that oil pressure gets lowest on-track during hard braking events and/or braking events combined with steering input (trail braking).
This makes sense since the sump is low in the rear of the pan.
I was surprised to see that the long sweeping corners didn't really affect the oil pressure.
Another thing to note is the Oil Temperature, staying within 6*F the entire lap with the cooler setup I'm running.
This is oil temp
POST
cooler, due to the physical limitations on which side of the sandwich plate I could stick the sensors on.
Also you can see the ECT chart as well, maxing out around 214 in clean air.
I'm interested to see how these numbers climb when the weather gets hot again!
Anyways just some food for thought / reference points for track rats wondering about this stuff.
So long...