Number of cars: About 130
Run groups: Four - Green/Blue, White, Black, Red. The green and blue groups were small enough that they combined them. This made for PLENTY of track time for all. Enhanced passing (anywhere with a signal) in black and red.
Weather: HOT!...In the 90's each day.
Mods to my car since last track event: Steeda competition springs. JHR clutch line, Hard Brakes titanium brake pad shims (running with Pagid RS29 pads).
Car performance/problems: Feels great with new springs...less body roll...less dive under braking...looks better with lower stance too! Brake shims seem to do the job...had ZERO braking problems all weekend. In spite of 90+ temps had no engine overheating issues. The only mod I have made for better cooling is a Roush billet grill...seems to have done the trick! I have already posted details on my clutch issue. Car in shop now being checked out. Will report back on results.
I envy anyone going the VIR event this weekend...wish I had the time (and $$$) to join you!
Check this out. Is my right front wheel off the ground or is it an optical illusion?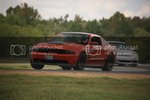 Here's a video with GPS data embedded. It's a tad long but toward the end is some video taken by my friend following me in his Porsche:
http://www.youtube.com/watch?v=an70XnKbT2g