There have been a number of questions about our camber plate design on this forum lately, and I wanted to post about an update to our Mustang camber plate line-up from last month. We finally made the production run of the Vorshlag S550 camber-caster plate for use with OEM perches (which was tested for many months before it was released). This post will address some basic concepts of the Vorshlag camber plate + perch design, then talk specifically about the S197 or S550 camber plates versions and their various spring perch options.
S197 CAMBER PLATE DESIGN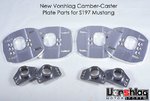 We made our first spherical top mount for the S197 back in 2008 but completely revised it before ever pushing these into production. The
Vorshlag S197 design
below has been on the market since 2012 and we have sold hundreds of sets to street and race car owners over the past 5 years.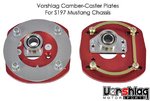 With this design we allow for easy track-side adjustment of camber, offering an
additional
2.5 degrees of additional negative camber adjustment. There are also 3 fixed caster settings: stock, +0.5° and +1.0°. There is more adjustment range in this assembly than the stock strut tower opening allows, and some racers open up the tower hole to allow for more usable camber and/or caster range (as shown below).
To adjust camber is easy: jack up the front end, loosen the 4 top nuts, and slide the top of the tire (and strut) inboard or outboard as needed. Align the pointer on the top ring to the 5 reference marks engraved on the plate. Tighten, lower, go race!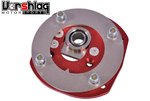 The spherical bearing we use is the largest of any camber plate in the industry, and it is a Teflon lined stainless steel high load capacity version. The main plate is high strength aluminum and the bearing holder and top ring are high strength steel, CNC cut to extreme accuracy. The platings and coatings we use are second to none, for outstanding salt corrosion resistance.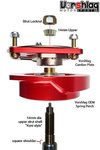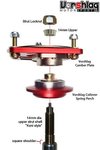 Unlike other designs sold for Mustangs and other cars, our camber plates are modular and come with new upper spring perches. This unique feature allows us to use a sealed, greased, radial ball bearing assembly pressed into these upper perches (shown below) that come in two heights. We can use the shorter version for coilover cars to gain even more suspension travel (5mm) at no extra cost, but our S197 OEM versions need the height of the double row bearing to match the OEM top mount design's stack-up height.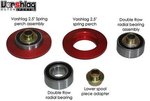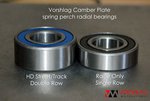 We make the perches to fit the exact OEM diameter and coil shape, or use one of 3 common coilover spring perch diameters (2.25", 60mm or 2.5").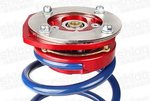 Since 2015, we have CNC machined all of our OEM upper perches for the S197 Mustang to have a perfect fit with the coil shape of all OEM and aftermarket springs made for the S197 chassis. Some have a slight "curl" on the open top end of the spring, so we notch the perches to fit that better than the OEM parts do. The coilover spring perches are color coded to define which size they are, as shown above right.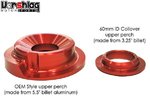 We do charge more for the OEM spring perch version, but in the picture above it might be obvious why. The coilover spring perches are made from a much smaller quantity of billet aluminum as the S197 OEM version shown at left (8 times the material volume). The OEM version has more machining steps than the coilover versions, with a lengthy process on the CNC mill to cut the "helix" shape, matching the open ended spring shape of the S197. More material + more machining time = more cost.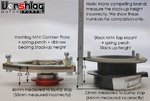 We design our camber plates for use with the OEM perches we provide to exactly match the factory upper strut mount + factory upper spring perch. This way you don't raise or lower your ride height when installing our camber plates. For coilover use we try to minimize this stack-up height, to add additional travel, as you can adjust ride height on the adjustable coilover perches. Converting our modular camber plates from OEM style springs/struts perches to a coilover shock setup is easy - just call Vorshlag to order the appropriate upper perches. The rest of the parts are the same.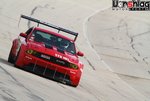 We over engineer our designs before they even go on a testers car, and of course we have used and abused this S197 design for years without issue. Tested on the street, autocross and on track with high mechanical and aero grip levels. As tough as they are, they are also silent in use - we custom build each set to order so that they fit your exact strut stem profile and spring diameter. You won't find a finer example of camber-caster plates for this chassis.
S550 CAMBER PLATE DESIGN
Back in May of 2015 we got our hands on a stock 2015 Mustang GT and quickly designed a camber-caster plate for use with coilovers for this car.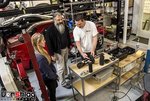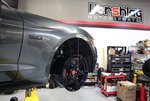 After we measured, designed, programmed, machined, assembled and installed these camber-caster plates for the S550 chassis, as well as designed and installed MCS coilovers, this tester's 6th Gen Mustang was on track 48 hours later and racing in the Optima/USCA series. He has run these plates for 2 seasons now and the parts are still working perfectly.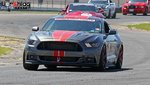 The
Vorshlag S550 camber plate for use with coilover struts
has been built for the past year in production and we have had zero problems with the units delivered since then.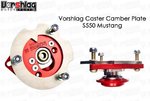 Similar to the S197 design, the S550 camber plate has variable camber adjustment that "slides" for another 2.5° of negative camber travel, as well as 2 fixed caster settings (stock and +1.0°). These plates also have more travel built into them than the stock strut tower will allow, but like the S197 design you can modify the tower opening for more usable range.
The
S550 camber plate for use with OEM springs
(shown above) was a bit trickier to design, and we tackled this in early 2016. The OEM top mount and upper spring perch made for a very short stack-up height, so we had to design some new parts and use a new bearing to make our parts match the factory height. Again, we want to neither raise nor lower a car with our camber plate + perch assembly when the stock springs are used.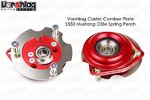 Adding negative camber is one of the FIRST modifications racers do to their cars, and the S550 chassis needs it just like so many others. The 2015 GT below is running an 18x11" Forgestar wheel and 315/30/18 BFGoodrich Rival-S tires. It needed the added camber to help fit that massive tire under the stock fenders, but it also needed the camber to keep from excessively wearing the tire's outer shoulder. With GT350R springs and our camber plates this car was fast enough to beat 19 CAM-C cars at its first National autocross event, then won the CAM ProSolo class a few weeks later. Negative camber helps even more on a road course, too.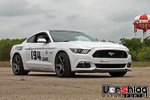 Just like the 2015-up Mustang GT and Ecoboost cars, the Shelby GT350 is a great car to use on track. But they are just as heavy as the GT, and likewise suffer from the same "lack of camber adjustments" problems. If you run these cars in bone stock trim on track be prepared to replace the front tires often...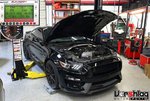 We used the installation of a production set of Vorshlag S550 camber plates on the 2016 Shelby above to make
this installation instruction gallery
.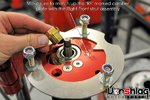 Take a look at that gallery to see step-by-step instructions and tips to help make the install trouble-free. The same basic steps apply to the S197 as well.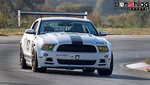 Hopefully we have answered some questions in this post. If not, feel free to ask anything about the S197 or S550 camber plates below.
Thanks,
Terry Fair @ Vorshlag