We just finished the last of the machining, anodizing and plating and have begun assembling and shipping our camber plates for the S550 with the OEM diameter spring. These are compatible with all know springs that fit the stock top mount. We've tested them with GT and GT350R springs.
Here is one of out testers, who recently beat out a large field of SCCA CAM-C competitors in a mildly prepared S550 with GT350R springs and our plates.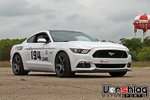 Vorshlag S550 (2015-up) Mustang Camber/Caster Plates & OEM Perches [A1-4701-02]
http://www.vorshlag.com/product_info.php?cPath=141_322_329&products_id=825
Here are the bullet points, but the most important ones is that this camber plate does not re-use any stock components. You do not need to recycle the perches off your existing top mounts, or have to source parts from Ford to assemble them with your springs and struts. You just compress the spring, drop on our camber plates, and tighten the top nut.
Compatible with all OEM diameter factory and aftermarket (lowering) springs for S550
Works on the 2015-up Mustang Ecoboost, V6, GT and Shelby GT350 and GT350R
Installs with basic hand tools, no chassis modifications required.
Caster & Camber are independently adjustable.
Camber is easily adjustable at the track with simple (metric) hand tools.
Caster is adjustable with two fixed positions: factory (frontmost), and ~ +1.0 degree (rearmost)
The spherical bearing used in the Vorshlag camber plate is the largest used in any S550 Mustang camber plate on the market. The result has much better durability and wear characteristics than the undersized bearings used in our competitors' plates.
Aluminum alloy main plate and steel alloy bearing holder construction - Tough as a tank!
All components plated for maximum corrosion resistance and long life.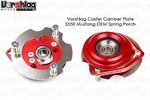 If you want to see more glamor photos of all the components for the production plates, scroll through the gallery starting here:
https://vorshlag.smugmug.com/Product-Pictures/Vorshlag-Camber-Plate-Product/i-7Zcs4g2
If you want to see the prototype parts, start here:
https://vorshlag.smugmug.com/Product-Pictures/Development-Pictures/i-J8Rt5ht
These are also available for suspensions that use racing springs in 60mm, 2.25" or 2.5" diameters.