Project Kickoff, August 1st, 2019:
We are working on a swap in our shop (started a few weeks ago) and felt it was a good idea to share what we have learned and ask some questions.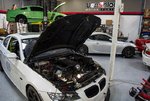 We have worked on a lot of Coyote powered cars over the past 9 years since the engine debuted in the 2011 Mustang, but have only worked on two Coyote swaps - and both were initially done by other shops. Both the E92 BMW (above) and Fox (below) swaps needed a LOT of clean up work and durability upgrades, which we tackled. The E92 became a proper track car after the work we did and the Fox became a much nicer, more functional street car.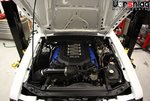 We have done dozens of LS swaps in-house and sold hundreds of LS swap kits. Why LS swap vs Coyote swap? Two reasons: COST and SIZE. A built Coyote is pretty damned expensive and for a road race car might make 500 whp, but they are usually short lived. You get it past 5.2L and you spent some SERIOUS money. A Built LS is common and can go to 8.0L inside an OEM block (and 8.7L in tall deck). I'm not guessing, we've done this, a lot, at my engine shop Horsepower Research. This image shows the size thing...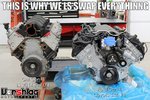 I'm not arguing for LS swaps, just have to always put that out there as a warning. Now we have a customer that asked us to upgrade his 2010 GT road race car, which had the lackluster 4.6L 3V engine. 300-315 hp, makes 260-280 whp in NA form with some headers, CAI and tune. Wee!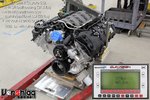 He wants to move out of the class he was in (NASA Spec Iron) to a class that allows +100 whp (American Iron). Our suggestion was to over shoot the ~370 whp the class allows and go for a Gen 2 Coyote swap, make 450 whp, then use the electronic throttle to restrict the tune to make a "flat power" 370 whp across the board. Old trick, really works. Uncork it for fun events and let it fly!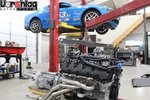 He went with a Tremec T56 Magnum XL, ARH long tubes, Gen 2 crate motor, and the Ford controls pack.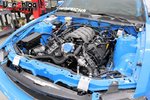 We have found a lot of part numbers for Gen2 specific parts we need, made a lot of little brackets and doo-dads to make the Controls Pack bits fit, and have the swap mostly done. I will post more here as work progresses. We currently are looking for these solutions:
1. Making the stock gauges work (doubtful - will likely use AiM digital dash)
2. Get some ideas on making a 2011-14 EPAS electric rack (Boss302R rack) working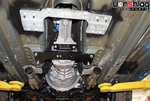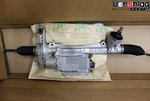 The wiring and CAN comms are always the hardest part of any swap, and this looks no different. Except that there seems to be only ONE source for a wiring harness to work with the OEM computer (Ford). And there seems to be no way to make one street legal (which is what about half of our LS swaps end up doing).
More soon,