I weighed my boss on a set on NASCAR scales.
It weighed 3612 totally stock.
The car is front bias of course because of its engine.
I was hoping it would have a 50% cross over (looks like I have some suspension work ahead of me).
I'm going to mod the car and I'm going to weigh it each time I add a part.
I want to see how much weight is added or subtracted with each mod.
See the results below.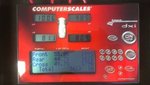 Boss stock