basic and well known psychic
I wanted to remove some of the OEM peel and surface scratches and etching near the area that I removed some of the 302R graphics before I put the new set on.
Light pass with 1500 and a 3M rubber pad to knock down and 'see' highest spots: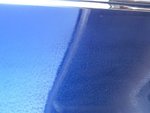 Smoothed with 2000 and a foam detail block: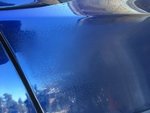 After polishing with Meguiar's 83 (D/A Cleaner Polish =6 on cut scale) followed by 80 (like 205 =4 on Meguiar's 'cut' scale) with a D/A and foam pad: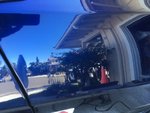 Reflection in un-touched door panel:
Reflection after wet sand and polish: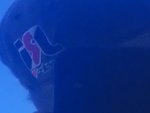 Disclaimer:
I don't mean for this to be a how-to thread! Don't do this at home unless you have at least some experience and a good level of comfort working with paint!
Some tips in case you want to try it anyway:
Keep everything extremely clean and well lubricated with water when wet sanding. I use distilled water in a spray bottle and never get the sandpaper to clog.
Wet the sandpaper before and/or 'knock it down' a bit by rubbing abrasive side against itself.
Tape edges and corners so you don't accidentally burn through the clear. I didn't above, but wanted to 'feather' to the edges.
Don't ever do this kind of work on a windy or dry, dusty day. Trust me, not worth it.