So there's a lot of info here..
1.tire brand
2. tire size
3. tire compound
4. the "N" next to the valve core denotes the fact that the tire has nitrogen in it.
5. the N also notes the location of the valve core so you can see on the rim ( of the wheel) if the tire has rotated
6. balance weights
7. wheel set, which is different from the tire set
8. tire set, numberred 1 through 5, because your allotment is 5/ race
9. track location ( 3 letters) SEB
10. location on car
11. if it is a rain tire you will also have a rotation arrow
12. sometimes hash marks are used to denote heat cycles, but these tires are usually only used once.
13. IFR inbed chip.
14. car number
15. car class
16. wheel nut location for the tire changer
17. these tires are also qualifiers which means they must be used to start the race
18. tire size used on the wheel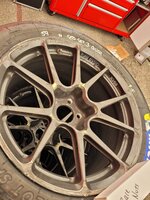 Last edited: