After reading the recent article in Mustang Monthly about fire extinguishers, I decided to buy one of the new Halotron 1 units. I thought the custom trunk mounting brackets were a bit pricey, so decided to design and build one from scratch.
The photo below shows one that I made for about $11. A 36" length of 2" X 1/8" aluminum at Home Depot will actually make two brackets, so if you can go in with a buddy and make a couple your total cost will be about $6 and a hour and a half of fabrication time.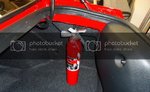 If anyone is interested I can post the blueprint and construction method. Tools required are a hack saw, bench vise, and a drill.