716
721
Exp. Type

Autocross
Exp. Level

10-20 Years
After the new transmission install (TKX) I'm getting a slow pulsing vibration that is speed dependent. At 70mph it's a wub...wub...wub...wub. It seems to be much slower than wheel speed. I can feel it in the seat and steering wheel and it vibrates the whole car. At 100mph it's much faster and borderline violent. I just had my driveshaft rebalanced, they said it wasn't really bad to begin with. I put the car on jack stands with the wheels off and still exactly the same as if I'm driving the car. I put my hand on the axle housing while its running and can feel the vibration. I pulled the diff cover off and had no metal shavings or flakes and the wear pattern on the ring gear looks good. I have a Eaton Truetrac with about 300 miles on it since install. I installed the Eaton along with new 31 spline Moser axles, axle bearings, and rear brakes last summer and drove it about 20 miles with the old transmission and did not notice any vibration but it wasn't a great sample size and I don't remember if I ever had it on the highway. I reused the same ring and pinion I already had. They are Ford Racing 3.55's with a couple seasons of driving on them. The pinion did not come out when I installed the Eaton. I also rechecked pinion angle. The crank pulley and pinion flange are within 0.2° according to my digital gage. My driveshaft to pinion angle is 2.5°. Driveshaft shop said the driveshaft had no runout.
My possible scenarios;
-Bent axle (these are new)
-Bad Truetrac? (also new)
-Bad pinion, carrier, or axle bearing? It seems like a bearing would be a constant noise.
-Set it on fire.
This is driving me nuts. I just want to go race.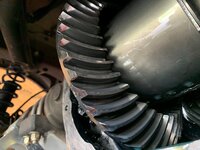 Last edited: